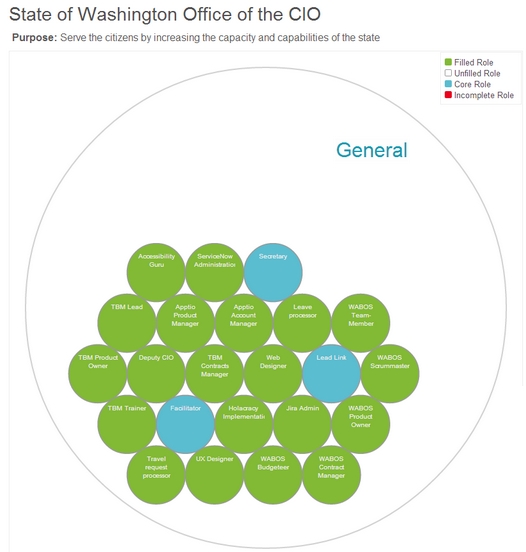 The 'Next Stage' organising structure Holacracy has created quite an astonishing level of international buzz – far more than anything else included in Reinventing Organizations.
Our startup launched its own version of Holacracy and tripled its revenue
– Sebastian Klein, Blinkist
This is because it has spread by now to over 300 organisations around the globe. (Any organisation can start using Holacracy, for free – though there is a cost to training, consultancy or large-scale use of the Glassfrog software that helps to run the 'Tactical' and 'Governance' meetings that are at its heart, along with tracking the 'Circles' and the multiple 'Roles' that staff have, instead of a single job title).
This buzz has been turbo-charged by CEO Tony Hsieh's brave decision to implement Holacracy at the prominent US online apparel retailer Zappos – with the goal of boosting staff autonomy and creativity. This $1bn+ organisation with 1,400 staff is far bigger than any other that is making the change to Holacracy.
Its CEO has now vowed to take a "rip the bandaid approach to accelerate progress towards becoming a Teal organization (as described in the book Reinventing Organizations)".
(N.B. It's worth remembering that Holacracy primarily provides a format for the Teal breakthrough of self-management, rather than the other two breakthroughs.)
Initial stories sought to explain the surprise of Zappos' workplace "without managers" and the concept of Holacracy. As the implementation has progressed, more candid discussions about the challenges have appeared. Other organisations have also implemented it, and begun sharing the hurdles and sometimes how they've created their own hybrids.
Those lesser-known implementations include everything from design consultancies to the UK's spy agency GCHQ where Holacracy has been "discussed (though not implemented in full)" according to a Financial Times blog story.
Organisations move ahead with Holacracy
Berlin start-up Blinkist – a mobile app for punchy non-fiction book summaries – found that their 'lighter' version of Holacracy "massively upped our productivity".
"Instead of bright, multi-talented employees languishing in an air-tight title, they get to apply their skills and make real impact wherever they're able," wrote co-founder Sebastian Klein in a Quartz article 'Our startup launched its own version of Holacracy and tripled its revenue'.
"Nixing titles in favor of roles freed creativity and drive, and also ratcheted up our productivity".
There were unexpected social benefits for their 20 staff too, for example: "The combination of using their secret talents and having complete clarity on responsibilities has made our team happier, more enthusiastic, and allowed us to learn new skills that might never have emerged had we been jammed into the narrow confines of a job title".
So taken are they with Holacracy that they are offering their own e-book Blinkracy (download PDF), which promises to "Make your company management-free and 100% results-oriented".
In February, the Office of the Chief Information Officer in Washington State began implementing Holacracy; this is believed to be the first implementation of Holacracy in a United States government organization.
They are treading carefully: starting with a subset of the office, where people are most interested in the principles of Holacracy, as well as making it opt-in.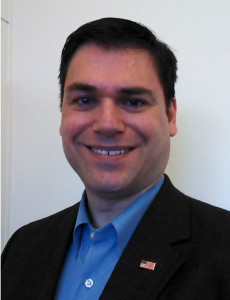 Michael DeAngelo, Washington State Deputy CIO, promised  in a post 'Holacracy in Government!' to blog about the experience of the implementation and the barriers to adoption that are unique to Government.
After reading Reinventing Organizations he concluded that 'Holacracy is one of the models which stands out as being a most structured and defined framework that may actually work in government'.
Of course, he no longer has a job title but now has 'roles like Lead Link and Holacracy Implementation'.
Michael commented, in an April blog post: "I love the concept in the Holacracy model that employees, who are closer to the customer and delivering on the purpose of the organization, are empowered to incrementally improve and test the design of the organization and that the changes come from real gaps actually experienced. The idea that a single leader is omniscient and can craft the perfect organizational structure now seems ridiculous."
* (Here is the Holacracy blog and the Holacracy organisation can be viewed on Glassfrog).
NY strategy firm Undercurrent is one of the many adopters, riding the now-familiar roller-coaster of ups and downs that bringing it in creates.
"My first holacracy meeting made me want to quit my job," wrote Mike Arauz in a Mashable blog post titled 'My Company Adopted a Holacracy. It Kind of Sucked'.
He added, though,  "One year later, in spite of its shortcomings, I can't imagine going back to our old way of working."
Mike found the principles 'transformative' but shared some major growing pains. Do the streamlined and action-focused meeting formats stifle creativity, discussions and brainstorming? Is Holacracy jargon almost cult-like?
Is it "too big of a change for many organizations to metabolise?" he wondered.
Novel hybrid versions of Holacracy are emerging too, and cogent and well-informed analyses of possible areas of strength and weakness. Design consultancy NOBL Collective, for example, used a blog – 'Why Self-Organizing is So Hard'  – to praise Holocracy for having "done the world a great service by taking the lead", but also argued that it (along with the accompanying GlassFrog software) "are one-sized at the moment".
"It's time for variation", it concludes, as "there isn't enough choice in the market yet". They advise organisations to "adapt your own model". Phasing is vital too: start with self-management ('"Tactical meetings") before moving to self-organisation ("Governance meetings"). A dedicated 'Complexity Reduction Officer' is another – unusual! – recommendation.