By Lia Aurami for Enlivening Edge Magazine
Learn more about the March 3 Teal Around the World conference here. Register here. Enlivening Edge Magazine readers use coupon code  TATW2023xEdge23  at checkout for a 15% discount.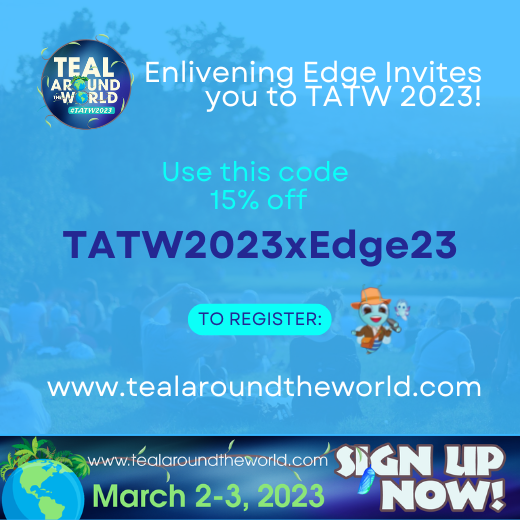 If you'd like to get to know theseTATW23 speakers better, browse through the articles that are by them or mention them. This list was compiled February 13, so there might be speakers who are authors but are not listed here. Quite the international group. These plus the other speakers at TATW truly indicate there is a growing global movement toward more conscious organizations.
Lisa Gill and Ted Rau have also been storytellers for Enlivening Edge Community Conversations.
Tom van der Lubbe and Timm Urschinger were also storytellers in the 2022 e-book that TATW21 resulted in the publication of: Adventures in Reinventing Work – Tales of Pioneers from Around the World,
Read the story behind the self-organized volunteers who took most of a year producing it. Enlivening Edge played a central role in the editing and production of the book. Frederic Laloux's words of inspiration open the book. Pick up the e-book at multiple retailers including Amazon and Apple as well as library outlets OverDrive, Bibliotheca, and Borrow Box.
Keynoters
Workshop Leaders
Storytellers
Tom van der Lubbe – Switzerland
The whole agenda for the Teal Around the World 2023 conference is here.
Remember, use the 15% discount coupon code from the top of this article, when you register.
Featured Image by Rucsandra Saulean from Pixabay