In a world where many organisations package, protect and promote their thinking into saleable panaceas, Ted Rau's article is a refreshing and open declaration. He acknowledges that sociocracy is simply a governance system – nothing more nothing less. He welcomes collaboration with other complimentary approaches so that the whole system can function at its best.

Be sure to catch the webinar on Theory U and sociocracy upcoming on December 13th, on Presencing and Self-governance!
Today, I have a surprise for you!  Sociocracy is not a system that solves everything; it never claimed to be that. It's a governance system, nothing more and nothing less.
To accept that goes on the list of things that keep us from becoming dogmatic. (Alongside the previously mentioned pieces: sociocracy as an invitation (based on choice) and continuous learning.)
And it's true: sociocracy on its own doesn't restore the planet's ecosystem; it doesn't restructure our education system by itself. It doesn't even do your laundry. But it's really good at formalizing and clarifying decision-making. Which it was designed to do! Nothing more, and nothing less.
Sociocracy can undoubtedly contribute to other domains by affecting the decisions that run those other systems. But any movement or framework that claims to be a cure-all for all issues raises my suspicion. Our issues are complex – no one solution will solve them all.
Just like we need multiple perspectives in a circle, we need multiple frameworks in a movement to be resilient.
We're not in competition with other frameworks – we are complementary.
That's why SoFA invests energy into weaving the movements – what other tools and frameworks go well with sociocracy and enhance the picture of methodologies that make collaboration more beautiful?
We have been learning from other methodologies and have explored how they relate to sociocracy – (examples: Nonviolent Communication, Permaculture, Agile, and DragonDreaming.) They all have their place in an ecosystem that improves our social systems toward a world that works for all.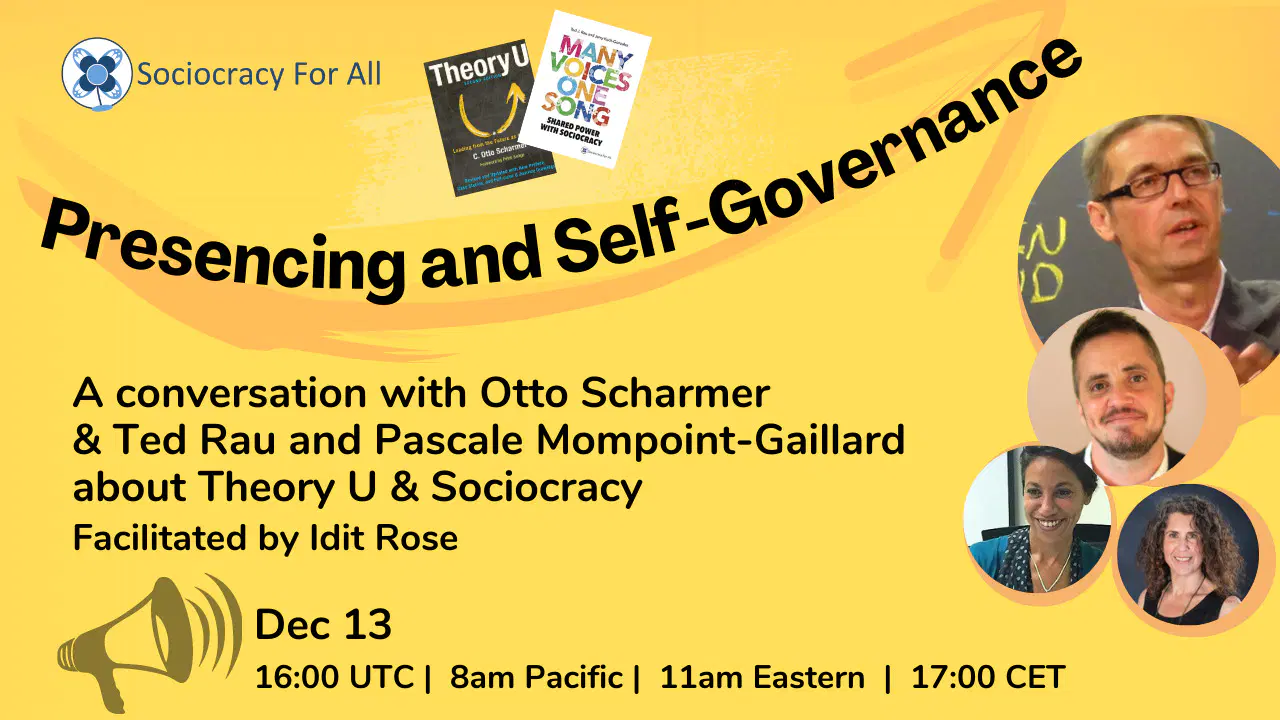 We had been wanting to include Theory U on our list of these explorations for a long time, and we're excited to announce that we'll do a webinar with Otto Scharmer soon! Join us on Dec 13! 
Ted, Executive Director of Sociocracy For All
See this list of events and seminars that SoFA have got planned for mid-December.
Republished with permission. Image by Gerd Altmann from Pixabay