Written collectively for Enlivening Edge Magazine
This year we ask the core "calling question:" "What are the unimagined possibilities in our future of work?".
Exploring new ways for us to work is at the heart of our annual upcoming global Future of Work 24 Hours unconference May 12th & 13th.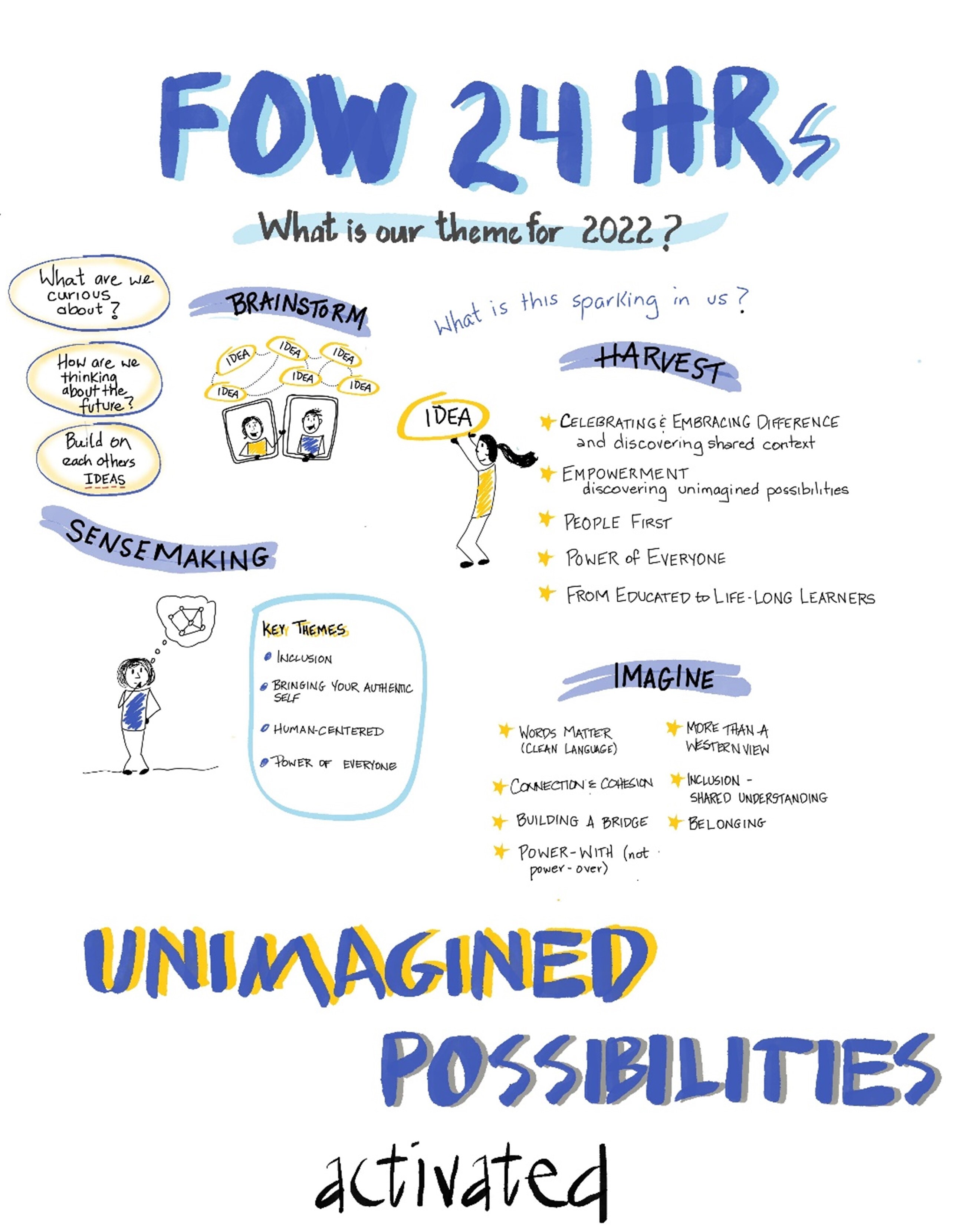 The initial call back in 2020 was to "Explore Our Potential for Disruption". In those early days of pandemic-induced remote work, the vision for a global, remote Open Space event which would span all time zones emerged, and the Future of Work 24 Hours was born.
Founders April Jefferson and Line Morkbak aimed to:
Create an inclusive Open Space conversation.
Invite existing and new voices engaged in the future of work.
Merge thought communities on a global scale and use Open Space as the container for that conversation.
Curate a space to build upon each other's thoughts and give agency to move into action.
Our 2020 event unprecedentedly brought thought communities together to dialogue  — for most it was the first time. Collaborations happened and people grew in their practice and purpose.
So when we gathered again in 2021 we began "Co-creating Our Future" together as thought communities seeking the future of work. The space remained open following the event as people continued the conversations week after week, month after month. Sparks had been ignited.
We learned that our event birthed a community. One where we adapt together and not only to build an annual gathering. We also challenge ourselves to experiment, tackle wicked problems that might not be solved all at once, but we move a leap forward.
What's Next?
We are excited to return for our 3rd annual global Open Space happening next month on May 12-13, 2022. In the true spirit of a collective, this year's theme has been generated in our global volunteer community, across various of our circle teams.
So this year we seek "Unimagined Possibilities".
We have shaken up our format to invite more breath. We have people working towards capturing new learnings with sensemaking. Moreover we are holding a space to invite more accessibility and inclusion with language and we've added some mingling spaces between the scheduled five Open Space circles.
When is it happening?
We'll be featuring five Open Space circles spanning 24 hours. Join as often as you wish. Here is an overview of the schedule on May 12th and 13th:
Circle A          6-10:30am PST / 9am-1.30pm EST / 3-7:30pm CET / 6:30-11pm IST
Mingle #1      30 minutes
Circle B          11am-3:30pm PST / 2-6:30pm EST / 8pm-12:30am CET / 11:30pm-4am IST
Mingle #2      30 minutes
Circle C           4-8:30pm PST / 7-11:30pm EST / 1-5:30am CET / 4:30am-9am IST
Mingle #3      30 minutes
Circle D          9pm-1:30am PST / 12-4:30am EST / 6am-10:30 CET / 9:30am-2pm IST
Mingle #4   30 minutes
Circle E           2-6am PST / 5-9am EST / 11am-3pm CET / 2:30-6:30pm IST
After-party
So what topics on new ways of working stir your heart and make you want to move your feet forward? Bring your hopes, wishes and fantasies to our global gathering Future of Work 24 hours!
Learn more about us at www.futureofwork24hrs.space
The cost is pay-what-you-can, suggested $12 or $24.
Featured Image by PublicDomainPictures from Pixabay