By Stephanny Peña for Enlivening Edge Magazine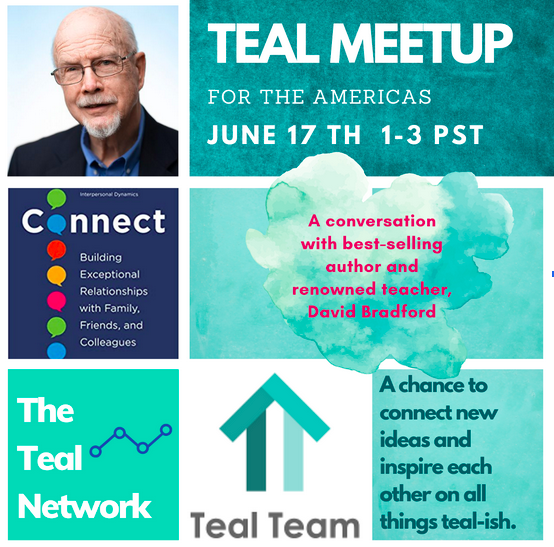 You're invited to register here for the free next (second-ever) quarterly Americas Global Teal Meetup.
This event is part of a series of time-zone-friendly conversations about the TEAL paradigm, connecting communities from Australia-Asia, Europe, and the US. These conversations have evolved from the global Teal Around the World conferences hosted by The Teal Network . Here is information about the other two coming right up:
Australia-Asia – June 24th, 7-9pm CST
Wholeness, evolutionary purpose, and self-management: these concepts will shape the inspiring Western Hemisphere event that will take place on June 17th, from 1 to 3 pm PDT.
On this occasion, we will be honored by the presence of David Bradford, BA, Ph.D., author of the highly acclaimed and best-selling book Connect: Building Exceptional Relationships with Family, Friends, and Colleagues, from which he will be sharing some invaluable insights.
"Touchy Feely"
In this guide, David and his co-author, Carole Robin, teach us how to build meaningful relationships with the people around us based on their experience at the Interpersonal Dynamics course from Stanford Graduate School of Business. This legendary course, affectionately known by students as "Touchy Feely," quickly became one of the most popular classes despite being an elective and not your "typical business course." It has also become a fundamental part of the interpersonal and professional growth of its attendees.
Such was the case for Travis Marsh, one of the hosts of this event. Travis met David during his time at Stanford in the course and developed a connection with the renowned teacher. Travis likes to say that he learned what he knows about interpersonal dynamics from Touchy Feely, and therefore from David.
That is why he is so excited about bringing David, a hero of his, to this upcoming Global Teal Meetup for the Americas.
There, they will cross-pollinate David's ideas on improving interpersonal skills and organizational structures to Teal concepts like wholeness, purpose, and self-management.
Global Teal Meetup
We encourage you to register for this experience. Don't miss the opportunity to have a unique insight on "Touchy Feely" from the author himself. This event will be free of charge. We would just request that you support David's work in small part by buying a copy of Connect: Building Exceptional Relationships with Family, Friends, and Colleagues. We guarantee you'll love it, or your money back :).
Agenda
Opening & connection – 20 min.
Fireside Chat with David – 35 min.
Q&A with David – 15 min.
Group Break-outs – 30 min.
Closing – 15 min.
We'll be in the Reception Zoom Room starting at 1 pm PDT at:
If you would like to consider attending the next global Teal Around the World conference in 2022, here is some information.