By Marika Ronty for Enlivening Edge Magazine
Book written by Alicia and Rolf Medina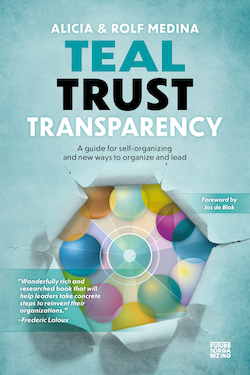 Teal Trust Transparency is a book for a future different from the one we have created to date.
Some years ago, I read Frederic Laloux's book Reinventing-Organizations. When I read Teal Trust Transparency, it became an important supplement and gave me several new perspectives. In addition, the book is written based on what is going on right now!
Since my focus has always been people's well-being and development, the book gave me new insights and became a valuable guide to a broader understanding about how an entire organization can grow strong by having a basic belief in people's capacity, will, and inner force.
In an educational and clear way, the reader is guided into a world of innovative thinking in terms of organizing and leadership. The idea behind the book is based on the image that the world has changed and that the old paradigms about work and how it's organized no longer apply.
Why should you read the book?
You are interested in new thoughts. You want to contribute to creating meaningful workplaces and thus to flourishing societies.
With the book's clear message, it is inevitable not to become curious and interested.
Democratization of the workplace through self-organizing.
Trust and transparency are required for this to happen
The book is a contribution to the "Teal movement" and the authors' DP model (Distributed Power) is a systemic framework that covers twelve important areas that an organization needs to consider. Among the areas we find People, Culture, Leadership, Decision-making, Salary model & Profit sharing, Digital tools & Technology, and more, see the image below.
Each one of these areas has a section called "voice from the field", where an expert in the field writes his or her story. In addition, the foreword is written by Jos de Blok, founder of Buurtzorg in the Netherlands.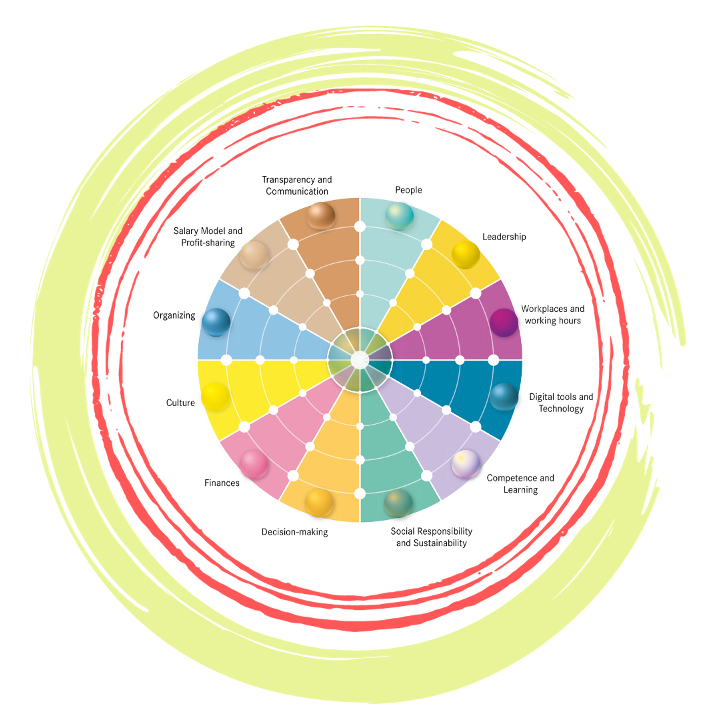 The authors, Alicia and Rolf Medina, both PhDs, researchers and with solid practical experience of working with organizations both in Sweden and in many other countries, generously share a long experience of both research and practice.
Currently they, as consultants, accompany organizations towards self-organizing, Teal, and new ways to lead, organize, and collaborate.
The book can be useful reading by anyone who is interested in a holistic approach and who wants to contribute to an organizational structure that says goodbye to a hierarchical structure of power that no longer serves people. Power is being transferred from power over to power with the people.
You who read the book will most likely want to start the journey to the future already today by bringing new thoughts to your organization inspired by what you have just read.
What are others saying about the book?
"Wonderfully rich and researched book that will help leaders take concrete steps to reinvent their organizations." —Frederic Laloux, Author of Reinventing Organizations.
"For anyone passionate about creating organizations that unleash the full potential of the people in them, the conversation has to be about distributing power. This book is a brilliant resource, packed with stories, examples, and wisdom from people who are reimagining ways of working around the world." —Lisa Gill, trainer at Tuff Leadership Training and host of the Leadermorphosis podcast
"We must be grateful to Alicia and Rolf, that after years of experience with traditional and unhealthy companies, they present this book in which they, with clarity and accuracy, highlight the great opportunity that medium-sized and small businesses have to shape people who are suitable for their needs, people with the skills, gifts, and talents these companies need. Creating organizations where people are the protagonists of the present by feeling, thinking, and doing and where they can share with enthusiasm and thus achieve their evolution on a physical, mental, emotional, and spiritual level will give permanent success." —Koldo Saratxaga, Founder of K2K emocionado
"Engagement is the source for innovation. Teal Trust Transparency serves as a manual for boosting engagement." —Fredrik Palmgren, Founding Partner of Centigo and Business Wellness Group
"Practical and accessible – a great overview to the important facets and frameworks of new forms of organizing. I particularly enjoyed the stories!" —Ted Rau, Co-founder Sociocracy for All
"A journey through the evolution of teal organizations with practical tools and insights to design the future of your company. The authors provide a fresh perspective that's not just based on theoretical analysis but also on their direct professional experience consulting with various organizations."—Gustavo Razzetti, Founder and CEO at Fearless Culture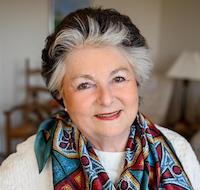 Marika Ronty is a licensed psychologist, supervisor, author with half a century of experience in leadership development.
She has also developed the Leader Intelligence Questionnaire (LIQ3) and is the author of several books, including Leader Intelligence.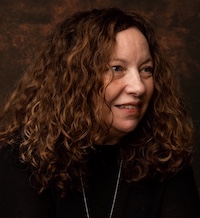 Alicia Medina is a Swedish Doctor of Philosophy in strategy and management and a boundary spanner between academia and the business world. She spent over a decade working as an organizational developer and advisor.
She is co-founder of Future of Organizing with the aim of helping organizations to move to a new paradigm beyond Command and Control. Currently, she spends her time providing services about self-organizing and Teal as well as writing and speaking about new ways of organizing, leading and collaborating.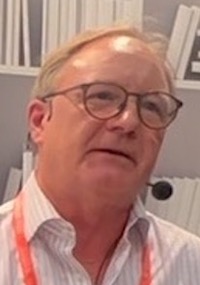 Rolf Medina is a Swedish Doctor of Philosophy in management and a frequent speaker and debater on topics related to organizational design, culture, leadership, and innovation. Nowadays, he devotes all his time to their company Future of Organizing where he focuses on Teal, agile and digital journeys and accompanies companies in their transition to the new organizational paradigm.
Featured Image by InspiredImages from Pixabay