By Anna Betz for Enlivening Edge Magazine
Interview with Yujian Yao on 3rd November 2018 during the 2nd China Evolutionary Future Forum in Shanghai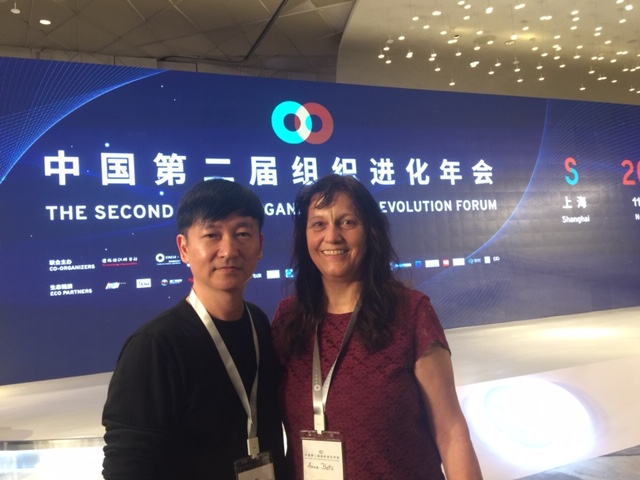 Yujian Yao founded the innovative Chinese fashion company Zhejiang Impression Industrial Co. Ltd (http://m.rijni.top/h.3QBvf1K). http://www.puqitech.com/
Known by his nickname 'hermit', he describes himself as an innovative entrepreneur who values integrity, openness, and transparency.
When he discovered Reinventing Organizations in 2017, he knew he had to transform his company into what he understood a Teal organization would be like.
The company is a trend leader in women's fashion in China, with 3,080 employees, based near the beautiful West Lake in Hangzhou, a city close to Shanghai. For 22 years, it has produced award-winning women's brands like Autumn Eyes, Cocoon, and Fairy.
Yujian has integrated staff value and company value, developing employees and the enterprise, through practising "cooperation, excellence, responsibility, commitment, and pay".
By introducing training and consulting, his forward-thinking company has become a "learning organization," investing heavily in the professional development of employees.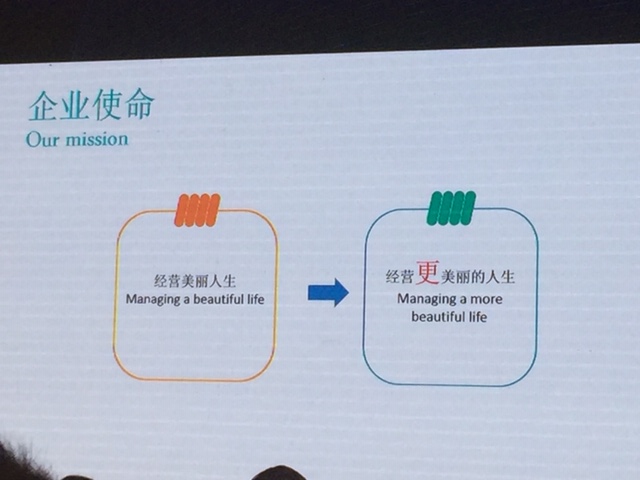 His ultimate goal is to transform the whole organization into a living organism. Becoming a beautiful organisation and leading a beautiful life is, for him, the biggest story of an evolutionary organisation.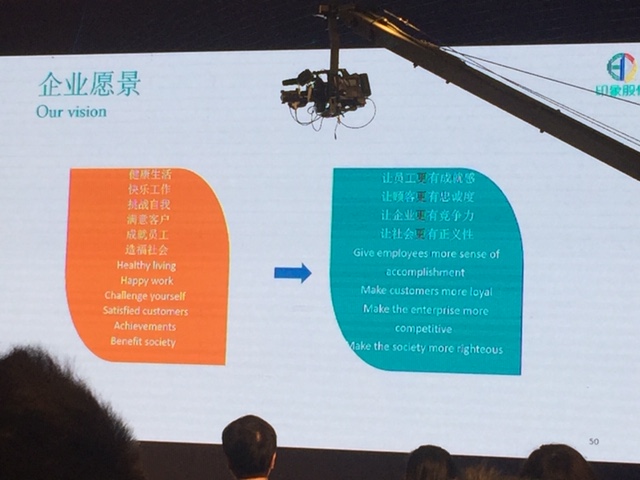 Yujian tells Enlivening Edge Magazine about transforming his organisation:
Q: What kind of company did you have before your wake-up call?
My company was like a traditional Orange company. Orders were given by managers to workers, who were at the bottom of the hierarchy. Employees were not used to bringing their own thinking mind to work. There were also barriers between different departments; communication was with heads of departments, who then passed orders down to employees.
Approaching my 50th birthday, I suddenly had this wake-up call and realized that this was not the only way to run a company. I realised when I turned 50: the average age of a Chinese citizen is 74, which meant that I had only 24 years to live. That meant I had less than 10,000 days to live. I wanted to lead a better life and contribute more.
Q: After that realization, what were the first things you did?
I knew I had to do something to improve my company, but I had a sense of self-doubt. However, one thing was very clear: I wanted to see my company run well before I would be ready to retire.
So instead of business as usual, I saw my company from three perspectives:
1. For employees, who have work, make a living and feel engaged.
2. For myself, so I can be free to do other things.
3. For the enterprise, to continue running without a boss giving orders.
Q: What triggered these insights? Do you meditate or practise anything else?
I am a deep thinker, and I was starting to enjoy philosophy more as I approached 50. I was reading 10 hours a day, 80% about philosophy. And every day I was thinking: How can I be a good person and how can I do things right?
Q: When exactly did your transformation happen?
Two years ago, I finally found that Teal organisations were the right answer. I'd read the book and participated in a public workshop in China in April 2018. Just two days later, I decided I had to take my company Teal. We officially changed four months later.
Q: What has been your experience so far?
Just one month ago, I had a very disappointing experience with my IT department. After I had given people the freedom to self-manage their work, and I trusted everyone, they had simply stopped working—which caused a huge loss to the business. It turned out that they had simply followed the poor example of their manager.
The lack of integrity he had demonstrated shocked me deeply and made me cry. I felt let down. It was the first time I cried in front of an employee. I learnt a lesson but didn't give up.
It made me realize it is not that simple to become a Teal organization.
When I reflected on myself and my behaviour, I realized I had been too nice to my employees and I sometimes didn't demand enough disciplined behaviour from them. I think this was the main cause of what I had experienced.
Q: What helps you to keep growing in your understanding and maturity in this way of working?
I like this sentence from Laloux: If you want your company to be really successful first you have to be the person who can be the one. If you want your company to be Teal, you have to be Teal first. Teal means wholeness to me.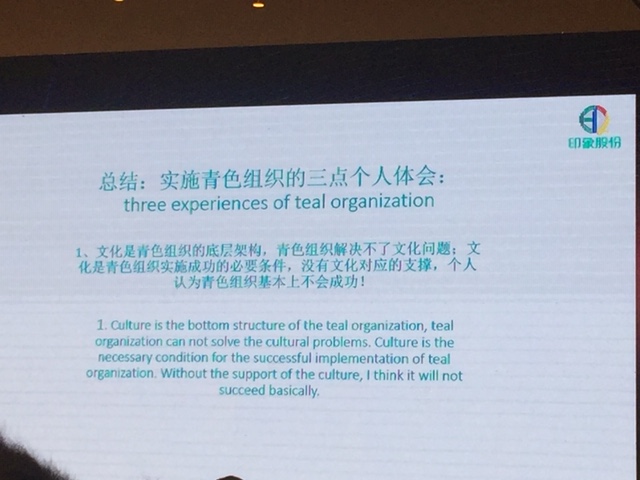 Q: What practices do you use for yourself and in your company for wholeness?
My life and the life of my company cannot be separated. If I want to be really successful in my life, I have to be successful in my business.
If I want employees to show up whole, I have to do a lot of things. For example, the way we communicate with each other is very important and needs a lot of attention and training.
The process of becoming whole as individuals and as an organization is really difficult and takes time.
I had a coach for three years but stopped a year ago and started to coach myself.
Q: What methods or practices do you use in the company to help people feel confident to show up whole?
We use different ways to put this into practice:
As the founder of this company, I am really involved in the practice myself. I communicate a lot directly with employees.
We have 20 circles and I attend every circle meeting myself.
We employ a consulting firm. They provide a lot of training and coaching to help employees to really understand Teal and to engage in Teal practices.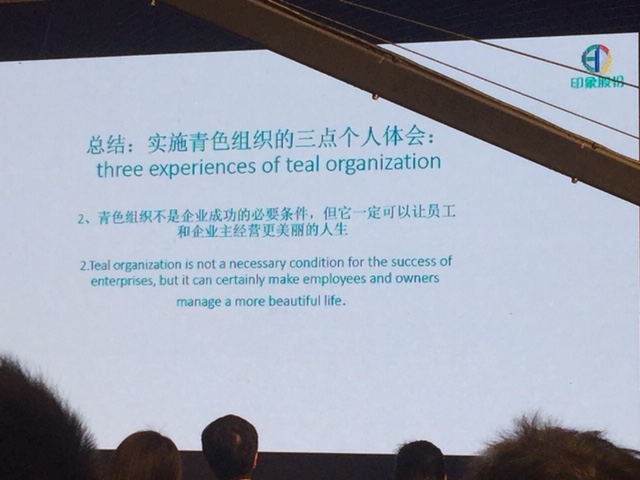 Q: Is showing up whole quite unusual in Chinese culture?
Yes, it is very, very difficult. In traditional Chinese culture people typically have a grey area where they just don't want to be so real. They don't want to show up as a whole person. Like in Tai chi, you have yin and yang, a shadow side and a bright side, and people are used to living with ambiguity. They don't want to be direct, as in traditional culture this means you are rude. It is difficult for anyone to show up whole whether in China or anywhere else in the world.
Q: How has your attitude changed? What are you doing differently now?
I changed our core values after the incident with the IT manager.
Core values are a new requirement for all employees. They are the bottom line that no one can compromise on. Without that it would be really hard to be a self-managing company.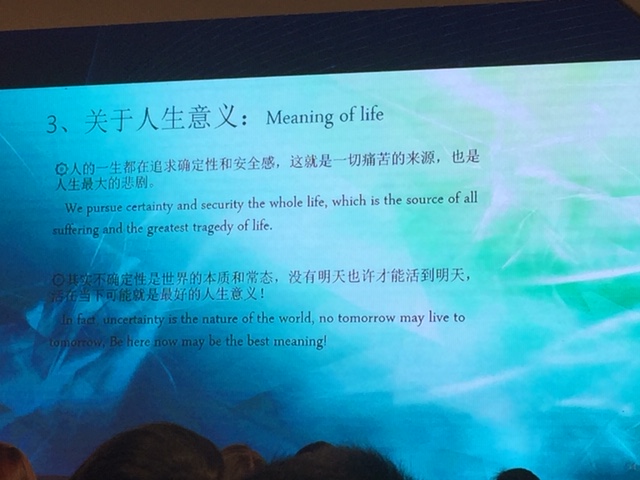 Q: Have you ever introduced any practices to help employees discover their own evolutionary purpose?
This is the next step. We are actually introducing the Evolutionary Purpose to the company and to individuals.
Having started with the purpose exploration of the circles, the roles and the company, now maybe the next step will be the purpose exploration with employees. I realize purpose cannot be taught but needs to be discovered.
Q: During this whole process have you ever had any concerns about losing money?
I am really anxious about that but I believe that Teal practice will make it better longterm. If I stuck to the old way of doing things it would probably make it worse.
I don't think of Teal in terms of saving money.
Unless I support employees to discover their own Evolutionary Purpose they will fall back into old behaviors. That would become a hindrance and stop the whole development.
I feel a real calling from inside myself that this is what I really want to do.
Q: What is your message to other entrepreneurs and to the world, to anyone who wants to transform their company?
"It depends on your life purpose. If your life purpose is primarily about the three aspects I mentioned at the beginning—employees, organisation, and leader—then all three can win by transforming to Teal. But if you stick to doing things in the old ways, wanting to be in control of everything, then there won't be any meaning for you in going Teal."
Speaking after Yujian Yao's presentation, Frederic Laloux said: "He was clearly very connected to what he was doing and why he was doing it. He shared very openly and honestly so that other people can learn from his experiences. Everyone needs to find their own way and they will all look different, maybe Teal, but what matters is what is really important to the person starting something."
Anna's background is in Health and Social Care with training in Herbal Medicine, Socialwork, Mindfulness Practice, Transparent Communication, and Systemic Family Therapy.
She practices a pro-active evolutionary approach to Health and Wellbeing and leads on projects in the UK National Health Service using Mindfulness and diet for people suffering from chronic inflammatory diseases like diabetes and dementia.
Her passion for building thriving and sustainable communities inspired her to co-found the HealthCommonsHub. She feels at home in places where individual, communal, organisational, and social evolution meet, and where people support each other in becoming whole and feel enlivened.