By Ted J. Rau for Enlivening Edge Magazine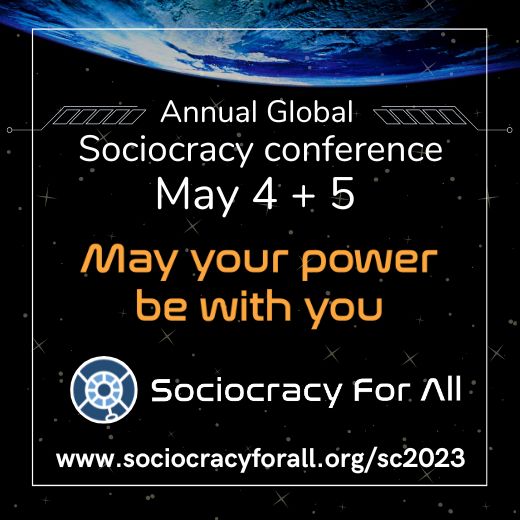 Attention all social innovators, change-makers, and friends of Teal organizations! Do you want to connect with others who share your passion. and learn from their experiences? Then mark your calendar for the upcoming online Annual Sociocracy Conference on May 4 and 5!
This conference is designed for people from all over the world who are working to implement sociocracy in a variety of settings, including business, grassroots groups, nonprofits, associations and networks, education, and coops. The intention of this conference is to bring together like-minded individuals and organizations to share their experiences, learn from one another, and strengthen the sociocracy movement worldwide.
But this conference is not just about learning and networking. It's also about having fun and building relationships. Attendees can expect two days of playful activities, games, and workshops focused on solving challenges and reflecting on meaningful questions around sociocracy. There will also be a dance party and a surprise reveal!
Sociocracy is growing in popularity, with more and more organizations adopting this decision-making process in various sectors, including business, nonprofit, education, science, farming, and hospitality. The confernece is packed with stories and first-hand experiences from the new paradigm of governance and decision-making that prioritizes consent, collaboration, and purpose.
You can support this movement by purchasing a ticket to the conference, gifting a ticket to someone else, sharing about the conference via word of mouth or social media!
Bonus: At the conference, besides the speakers and a networking program, we will have the most awesome collection of the most awesome IT tools to make decisions together and support circle-based organizations with visualization and other functionalities: Holaspirit, Loomio, Mapio, Peerdom, Logbuch.org, Nestri.io and Hylo!
Each will present their tool within a short demo,  fifteen minutes to give you an overview of what their tool does and how it looks. Then you can ask your questions and see if any of the tools are a good fit for you.
We think that bringing together our network and these IT tools is important because better tools that work for sociocracy help each organization and make a stronger movement overall.
So join us on May 4th and 5th to celebrate the progress and learning of the collaboration and sociocracy movement. Let's unite to build a better future and a galaxy that works for all! May the power of new ways of organizing be with us!
Enlivening Edge is happy to be an affiliate of this event. Go here to learn more and to register.
Featured Image by 0fjd125gk87 from Pixabay