By Anthony Cabraal for Enlivening Edge Magazine
Enlivening Edge Magazine readers receive a 15% discount using the code below.

Back in 2018 the Enlivening Edge network helped us at Enspiral launch the crowdfunding campaign for our first co-authored book, Better Work Together. Flash forward a few years and the book has been finding its way into more hands all around the world.
This year, the project is expanding into an online gathering called Doing Better Work Together.
Join us for 8 half-day content sessions running across all timezones from November 29th – December 2nd (Australian Eastern Daylight Time.). Wherever you are in the world, you'll be able to connect in and make the most of it.
The world has fundamentally shifted in the past few years.
This gathering intends to be a convergence of people from across the globe who are building tools, developing methods and sharing stories from the frontiers of collaboration and organisation-building.
By bringing people together who are committed to seeing 'the how' as an important lever for change we hope to amplify and accelerate the movement of people across the world who want to change how we change the world. Fresh perspective and inspiration as we all work to create new categories of solutions for the urgent, systemic challenges of our generation.
If you're working with innovative structures; networks, communities, DAOs, coops, remote first teams, self-managing, decentralised, distributed organisations, you'll be amongst peers and collaborators.
If you're focused on the human side of the organisation, we'll be diving into tools and methods for community building, decentralised governance and leadership, personal development, decision-making, deep relationship building, radical collaboration, and borderless teamwork.
The sessions will be a mixture of talks, workshops, facilitated connection, reflection and integration spaces led by practitioners and innovators from across the world.
Alongside a team led by Enspiral members Ants Cabraal and Melina Chan, supporting organisations include Loomio, The Hum, Optimi, Amble Studio, Consider.it, The Value Web, Greaterthan, TUFF Leadership Training and Open Collective.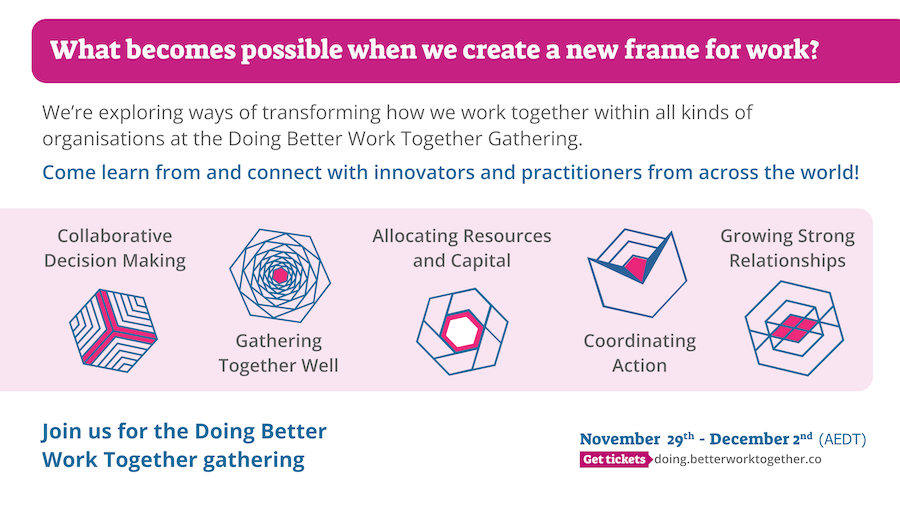 If you've been looking for an opportunity to participate with a global network of folks doing work differently, this will be a great opportunity to learn, meet new friends and spark new collaborations across borders, industries, and worldviews.
We would love to see you there.
Enlivening Edge readers are welcome to use the code EEFRIEND for a 15% discount off each ticket. Registration and information at Doing Better Work Together.


Enlivening Edge is happy to be an affiliate partner of this event.
Featured Image by Gerd Altmann from Pixabay